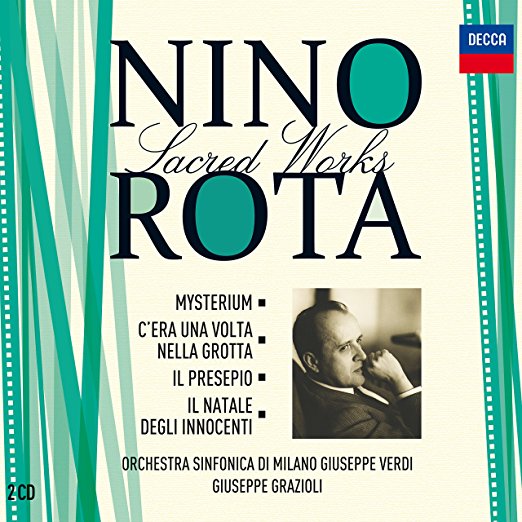 Disc 1
MYSTERIUM (1962)**


Cantata sacra in sette parti per soli, coro, coro di voci blanche e orchestra Testi tratti dal Nuovo e Antico Testamento, dalla Didakè, dalla Prima Letters Paolina ai Corinzi, dal Salmi, dall'Apocalisse, scelti da Nino Rota e Vinci Verginelli

I Allegro moderato e maestoso

(11.23)

II Impetuoso

(9.03)

III Lento. Andante espressivo

(7.26)

IV Andante, un poco of la marcia

(6.10)

V Lento

(10.45)

VI Allegretto gioioso, ben ritmato

(8.27)

VII Allegro ben moderato e deciso

(10.36)
ELENA XANTHOUDAKIS Soprano
GIUSEPPINA BRIDELLI Mezzosoprano
ALESSANDRO LIBERATORE Tenor
GIANLUCA BURATTO Basso
CORO DI VOCI BIANCHE DE laVERDI
MARIA TERESA TRAMONTIN Maestro del coro
CORO SINFONICO DI MILANO GIUSEPPE VERDI
ERINA GAMBARINI Maestro del coro
ORCHESTRA SINFONICA DI MILANO GIUSEPPE VERDI
GIUSEPPE GRAZIOLI Direttore
Disc 2
C'ERA UNA VOLTA NELLA GROTTA

(1965)*
per coro di voci blanche e orchestra da camera
Tratto da Aladino e La Lampada Magica
Testo di Vinci Verginelli

Andante

(4.39)
AVE MARIA

[?]*
Canzone sacra per coro di voci blanche, violino, viola, violoncello e organo
Andante (3.00)
CORO DI VOC1 BIANCHE DE laVERDI
MARIA TERESA TRAMONTIN Maestro del coro
ORCHESTRA SINFONICA DI MILANO GIUSEPPE VERDI
GIUSEPPE GRAZIOLI Direttore
PSALLITE NATO DE MARIA VIRGINE

(1958)
Mottetto per canto e tastiera


Un poco sostenuto - Andante con moto

(3.12)
DUE SALMI PER CANTO E ORGANO

(1943)


SALMO VI

Andante sostenuto, espressivo

(3.29)
SALMO 99

Allegro maestoso

(2.34)
SILVIA COLOMBINI Soprano
EUGENIO MARIA FAGIANI Organo
TOTA PULCHRA ES

(1961)*
Mottetto per soprano, tenore e organo


Andante

(3.38)
SILVIA COLOMBINI Soprano
DAVIDE GIUSTI Tenor
EUGENIO MARIA FAGIANI Organo
IL PRESEPIO

(1928-29)
Canzone profana per voce e quartetto d'archi
Testo della tradizione popolare toscana


Tranquillo

(6.05)
SILVIA COLOMBINI Soprano
QUARTETTO D'ARCHI DE laVERDI
IL NATALE DEGLI INNOCENTI

(1969-70)*
Oratorio per coro di bambini e soil su testi scelti e tradotti da Vinci Verginelli Testi tratti dal Nuovo e Antico Testamento, dai Vangeli apocrifi, da Antifone e Responsori liturgici, da S. Agostino


I Il Natale. Quasi lento

(2.43)

II I pastori. Allegretto gioioso

(2.58)

III Il presepio. Andante

(2.17)

IV I Re Magi. Allegretto festoso

(3.40)

V La fuga in Egitto. Moderato ma inquieto

(3.11)

VI La strage degli innocenti. Mosso, concitato

(2.42)
Il narratore DAVIDE GIUSTI Tenore
L'angelo SILVIA COLOMBINI Soprano
CORO DI VOCI BIANCHE DE IaVERDI
MARIA TERESA TRAMONTIN Maestro del coro
ORCHESTRA SINFONICA DI MILANO GIUSEPPE VERDI
GIUSEPPE GRAZIOLI Direttore

Prima esecuzione mondiale/World Premiere Recording*
Prima esecuzione mondiale versione completa / World Premiere Recording of the Complete Version**

Casa Dicografica / Record Label: Decca

Note alla discografia / Liner Notes

Remembering That Evening

Unlike the other volumes that make up this complete set of Rota's works, Mysterium was recorded live at the Auditorium in Milan on January 9th 2015. Only a couple of days had passed since the attack on the staff of Charlie Hebdo, and in the atmosphere of condolence and rumination in which the orchestra, chorus, soloists and the audience and I were immersed I felt that the message of this music came across more strongly than ever. Although the words of Mysterium are taken from various biblical sources, it is not a Catholic cantata. In fact, Rota had originally called it Mysterium Catholicum but then removed the adjective to bring out the "ecumenical" significance of the work, which tells us much about Rota's attitude to religion: an all-embracing attitude with Humanity at the centre. The end of each part of the cantata is conveyed by children's voices, and through these voices Rota seems to give us a glimpse of the only path that can be followed: transmitting to young people and to future generations an ideal of brotherhood among nations, irrespective of individual beliefs. The idea that, at this moment in history, music or art in general can succeed in this undertaking alone is pure utopia, but the contribution that we make for it to happen is still the highest and most noble facet of our music making.

Giuseppe Grazioli

The release on disc of the opera omnia of Nino Rota (1911-1979) amounts to an affirmation that he is one of the great masters of the twentieth century, especially the second half of the century, seeking to convince the reluctant and stir the memory of sleepers; and it is to the initiative of the Orchestra Verdi in Milan that this release is due. The orchestra's co–founder and director for the last twenty years, Luigi Corbani, a close friend of the present writer, has always maintained that one of his prime missions is to give a proper place of honour to Italian music — unlike some "patriots" who are only patriotic in television interviews and press releases. In this undertaking he is joined by Giuseppe Grazioli, a distinguished conductor who has also become a close friend of mine and who, in the context of modern society, is remarkable not only for his uncommon musical gifts but also for his even more uncommon human qualities, his artistic intransigence, his faithfulness and the profundity of his feelings.

This double album, part of the opera omnia, contains an anthology of short sacred compositions and a monumental work that occupies a position at the summit of twentieth–century choral sacred music, alongside Florent Schmitt's Psalm 47, Albert Roussel's Psalm 80, Stravinsky's Symphony of Psalms and a few other compositions, including Zoltan Kodaly's Psalmus Hungaricus and, higher still, Karol Szymanowski's Veni Creator Spiritus, with words in Polish. But it is differentiated by an expressive harshness, a severity of content and style that fits in perfectly with the profundity of the contrapuntal texture, making it a truly unique case. The epithet that best describes Mysterium is, I think, "iron-hard". Those who have not had the privilege that I had of knowing Nino Rota will have greater difficulty than I in understanding the personality of this composer. His bright eyes gave an impression of childlike innocence, yet he was a person of profound wisdom. He was small and moved awkwardly, but his smile had a unique luminosity. One of our first meetings was on 23 September 1970, in Perugia, in the marvelous church of San Pietro. Francesco Siciliani, a close friend of his and very attached to him (and, of course, a person of great spirituality, who recognised and admired spirituality in others) had organised the world premiere of the oratorio La vita di Maria (The Life of Mary) in the Sagra Musicale Umbra, his dearest creation. Basically, oratorio was a form that Rota found congenial, and there they performed that early work by the young composer, together with L'infanzia di San Giovanni Battista (The Childhood of St John the Baptist). The dress rehearsal was on the 23rd, with Rota himself on the podium. Despite his awkwardness, due to his tremendous shyness, he had a charisma that radiated upon the chorus and the orchestra. The first performance took place the next day. Afterwards he invited a group of the people who were present, including myself (but not Siciliani, who loathed the conviviality of so-called "mingling"), to a restaurant. We were already seated when Federico Fellini arrived. Everyone greeted him with applause, to which he responded: "Not unwarranted … but out of place!"

Rota was one of the closest friends of my maestro, Vincenzo Vitale, which was another reason for him to regard me with affection; and I still have a very precious present from him, the five richly bound volumes of Gabriele Rossetti's Il mistero dell' amor platonico . However, that happened much later, at the end of the seventies, whereas there were two episodes at the beginning of the decade that I still fondly recall. I was sitting in front of him and Vinci Verginelli in the Foro Italico, at a concert of the RAI's Orchestra Sinfonica di Roma; I don't remember the exact date, but it must have been before September 1970 because by the time of La vita di Maria I already knew Verginelli. Rota introduced me to the poet and scholar and said to me "Would you like to dine with us? If you're not scared, that is!" He was referring to the rumours about his homosexuality: an attitude that then sometimes (only sometimes, really) met with social condemnation. He was a strong believer, and that evening, with infinite delicacy, he began to challenge the agnosticism, or even scepticism, that I liked to display. And he was supported by Verginelli, who had a persuasive effect on me because he was a great teacher.

The other little anecdote is about something that happened two months after the premiere of La vita di Maria. Rota was in Naples, once again with Vinci Verginelli; he invited me to have lunch with him, and we arranged to meet in front of the Conservatory. We went down through Port'Alba and came to what is now Piazza Dante, where the incongruously placed statue of the poet destroys the architectural harmony of Vanvitelli's marvellous Foro Carolino. "Have you ever been to the Fetente?," Rota asked me. And he took me to a very poor, shabby restaurant in a small side street between Foro Carolino and Via Cisterna dell'Olio; and it really was called 0 Fetente (The Stinker). When we were seated he asked me, "Would you like some seaweed salad?" That delicacy of Neapolitan cuisine was unknown to me. I hesitated and he said, "Go on. It's good!" And with spoon and fork he personally placed a serving of it on my plate. If they do not make Nino Rota a saint, then who deserves to be made a saint?

This composer from Milan is now known to the general public as an author of film soundtracks, an art in which he achieved such planetary excellence that nobody could compete with him in that field. Yet he should be remembered as a composer of pure music, to which he was strongly attached and which left its mark on his spiritual life. Indeed, he started out as a young prodigy at the age of twelve, as I have said, with an oratorio. He taught composition to many and he was the director of the Conservatory in Bari, where he lived in Torre a Mare, occupying his apartment in Via Delle Coppelle in Rome only for short periods. Rota was and is profoundly unpopular with the so-called culturati because, although there was nothing in contemporary music that was unknown to him, his doctrine of composition led him to reject the dogmas of the avant-garde and remain firmly anchored to tonality; revitalised, but with a profound sense of history. He has a vast oeuvre because he was so attached to music that he could not refrain from composing; and his doctrine was on a par with his genius. I must say something else about his profound culture; he had a philologist's knowledge of the classical world, and thus of Latin and Greek; and his association with the poet Vinci Verginelli was based on their common passion for those languages. Verginelli wrote the text of La vita di Maria. In 1962 Rota composed another oratorio, Mysterium, for which Verginelli selected texts from the scriptures. It was performed on 19 and 20 October 2012 at the Teatro di San Carlo in Naples, conducted by Giuseppe Grazioli, and it was then that I first met that artist, who, as I have said, succeeded in winning my affection. Grazioli embarked on one of the initiatives for which the Orchestra Verdi will go down in history: the recording of Rota's entire works. Among the great conductors, now only Riccardo Muti performs compositions by Rota, and he even includes them in the tours of the Chicago Symphony Orchestra, eliciting admiration, he himself tells me, especially from the members of the orchestra.

I am in some perplexity about the attribution of Mysterium to the "genre" of oratorio, for which the authors are responsible. Music historians usually understand an "oratorio" as being an action that is not acted out as in musical theatre but projected on an imaginary stage; whereas Mysterium, in which there is no narration but only contemplation of the truth of faith and of the message of the gospels, seems more ascribable to the form of cantata.

This distinction is of less importance than aesthetic evaluation of this masterpiece. Subdivided into seven parts and including a children's choir to which the ecstatic close is entrusted, it opens with the sombre awesomeness of the announcement "In principio erg Verbum", underlined by orchestral ostinati and figures with a dotted rhythm. The fanfares at "Et ego resuscitabo eum in novissimo die" sound like a quotation from Verdi's Requiem. The model for Mysterium seems to be Stravinsky's Symphony of Psalms, one of the Russian composer's most beautiful works, but Rota diverges from it to include the vocal quartet and to embark on an exploration of rhythm that makes performance of the score difficult. There are sections in which the tempo marking changes in every bar, and there is an abundance of asymmetrical rhythms. With the orchestra of the Teatro di San Carlo, Grazioli succeeded in overcoming the perils perfectly; and even more so at La Verdi. The performance recorded at the concert and presented here is truly of very high quality.

Orchestration was another of the gifts that Rota possessed; thus the vast orchestra with triple woodwind produces magmatic sonorities contained within the low register and ethereal sounds to which the harp gives a touch of brightness. The final "Veni sancte Spiritus" ends with a very slight dissonance.

I repeat: Mysterium, a singularly scholarly but eloquent composition, is at least — at least, I say — on a par with the Symphony of Psalms. As for Florent Schmitt's Psalm 47 or Albert Roussel's Psalm 80, which I mentioned earlier as being some of the great examples of twentieth-century sacred music, I must take a moment to recall the supreme Vincenzo Vitale, a teacher of piano and, in an absolute sense, of music, whose pupils some of us have had the privilege of being. It was he who acquainted me with Schmit''s Psalm, having met Schmitt personally in Paris, where he was pursuing advanced studies of piano with Alfred Cortot and of composition with Roussel. Vitale was, like Siciliani, one of Rota's close friends; and for his sake he even agreed to go to Bari as the ministerial representative for the piano diplomas. Thus I can say that I experienced a double triangulation: Rota-Vitale-Siciliani and Rota-Vitale-Roussel. Rota, Vitale and Siciliani had in common not only the fact that they were great musicians but also their possession of extraordinary classical culture; which was necessary for the writing of Mysterium, a work that springs from the heart but also from the Paraclitus (Veni creator spiritus … mentes tuorum visita … sermone ditans guttura …). I wonder if this would not be a good moment to try to reintroduce some of Siciliani's sacred compositions. Not even I know them, because he withdrew them from circulation. He was an outstanding artistic director, on whom the destiny of performers and composers could depend, and he did not want his works to be performed as a form of flattery. Also, he said to me, "I went off composing because I found it came too easily." Who can say whether Rota ever knew Francesco Siciliani's compositions? He was a formidable reader of scores without even the aid of a piano, capable of memorising them instantly, and I am sure that he would not have shared the opinion that they had come too easily.

C'era una volta nella grotta (Once upon a time in the cave) is not a piece of spiritual music. It is one of those little things that reveal Nino Rota's great skill with their refined ingenuity. Ave Maria, Psallite nato (Sing psalms to the newborn child)), Salmo VI and Salmo 99 (Psalms VI and 99) and Tota Pulchra es appear to be charming conservatory exercises. The remark just made about the piece [C'era una volta nella grotta] from Aladino (Aladdin ) also applies, even more strongly to Il presepio (The Crib): the writing for quartet envelops the voice with gentle harmonies and wonderfully individualised timbres; the section marked Un poco più mosso provides a delicious imitation of Vivaldi and at the same time an echo of the nativity pastorals in Neapolitan music, echoed in Franco Alfano and Ottorino Respighi.

But the nativity pastorals, characterised by binary metres with a ternary subdivision, take on a very different weight in Il Natale degli innocenti (The Christmas of the Innocents). It is a small, very intense oratorio, for which it would be only too easy to indicate Stravinsky's Les noces as a stylistic source, but that seems to be an external suggestion, especially with regard to timbre. Rota's boundless musical culture shines forth in it, together with his knowledge of the classical world and the Greek and Latin languages. It is no coincidence that his associate and the author of the texts was the very cultured Latinist Vinci Verginelli. The "declamation" of the historicus (narrator) has modal inflections and a rhythmic aspect characteristic of the "reciting tone" of liturgical Old Roman chant; and the harmonies succeed in being archaic and at the same time modern. Gloria in altissimis (Glory in the highest) is a gigue with which the angels welcome the Saviour. They dance because the meek understand the joy of the heavens and because the heavens themselves dance at the "scandal of the incarnation". The visit and adoration of the Magi takes on arcane modulations in the stylistic simplicity of music entrusted to a children's choir. Stella ista sicut flamma (This star, like a flame )pays tribute to the Phrygian mode, relating Rota once again to the great masters of twentieth–century modality, Maurice Emmanuel, Ottorino Respighi and Gino Marinuzzi. La fuga in Egitto (The Flight to Egypt) is elaborate and, with its ostinati, dramatic and powerful. Ex Aegypto vocavi filium meum (Out of Egypt I called my Son) is a refined little motet. La strage degli innocenti (The Massacre of the Innocents) links up with the preceding dramatic element; the conclusion, Vox in Rama (A Voice in Ramah), concentrates on the anguish of the symbolic Rachel grieving for the innocents, emphasised by the mysterious cadenza in C major. With its stylistic affinity and artistic loftiness, Il Natale degli innocenti takes a worthy place alongside one of Respighi's archaic masterpieces, Lauda per la Nativity del Signore (Praise for the Birth of Our Lord).

Paolo Isotta

More pages devoted to Mysterium and Nino Rota available in Altri canti di Marte, Marsilio Editore

Testo / Text

Mysterium (Latin)

I
CORO
In principio erat Verbum et Verbum
erat apud Deum et Deus erat Verbum.
(GIOVANNI 1,1)

Et Verbum caro factum est et habitavit in nobis (GIOVANNI 1, 14)

BASSO E CORO
Amen, amen dico vobis: Nisi manducaveritis carnem Filii
hominis et biberitis ejus sanguinem, non habebitis vitam
in vobis.
Qui manducat meam carnem et bibit meum sanguinem,
habet vitam aeternam: et ego resuscitabo eum in novissimo die.
(GIOVANNI VI, 53, 54)

BASSO
Hic est panis qui de caelo descendit. Non sicut
manducaverunt patres vestri manna et mortui sunt. Qui
manducat hunc panem vivet in aeternum. (GIOVANNI VI, 58)

CORO
Unum panem frangimus, pharmacum immortalitatis,
antidotum ne moriamur, sed semper vivamus in Jesu Christo.
(S. IGNAZIO DI ANTIOCHIA - EPISTOLA AGO EFESINI XX)

II


CORO
Quoniam unus panis, unum corpus, multi sumus, omnes,
qui de uno pane participamus.
(PAOLO I CORINTHI X, 17)

CONTRALTO
Et omnes eandem escam spiritalem manducaverunt, et
omnes eundem potum spiritalem biberunt:

CORO
Bibebant autem de spiritali, consequente eos, petra: petra
autem erat Christus.
(PAOLO I CORINTHI X, 3-4)

CORO
(uomini soli)
Tu es Petrus, et super hanc petram aedificabo ecclesiam meam.

(tutti) et portae inferi non praevalebunt adversus eam.
(MATTEO XVI, 18)

III
BASSO
Iterum dico quia si duo ex vobis consenserint super terram,
de omni re quamqunque petierint fiet illis a Patre meo, qui
in caelis est.
Ubi enim duo vel tres congregati in nomine meo, ibi sum in
medio eorum. (MATTEO XVIII, 19-20)

CORO
Ubi Christus Jesus, illic Catholics Ecciesia.
(S. IGNAZIO - EFESINI XX)

SOPRANO CONTRALTO TENORE E CORO
(soli)
Ubi charitas et amor, Deus ibi est.
Congregavit nos in unum Christi amor,
Exsultemus et in ipso jucundemur.

(coro)
Timeamus et amemus Deum vivum.

(soli)
Et ex corde diligamus nos sincero.
Simul ergo cum in unum congregamur,
Ne nos mente dividamur caveamus.
Cessent jurgia maligna, cessent lites,

(coro)
Et in media nostri sit Christus Deus.
(ANTIFONA DEL GIOVEDÌ SANTO)

CORO
In ipso enim vivimus, movemur et sumus. (ATTI DEGLI APOSTOLI XVII, 28)

IV
TENORE
Duae viae sunt, altera vitae, altera mortis.
Via enim vitae haec est:
primum dilige Deum factorem tui;
deinde proximum tuum tamquam to ipsum;
omnia autem quae non vis fieri tibi, neque ipse alteri facias.
(DOCTRINA DOMINI I)

CORO
Ecce quam bonum et quam jucundum
habitare frates in unum.
Sicut unguentum in capite,
quad descendit in barbam, barbam Aaron.
Quod descendit in oram vestimenti ejus,
sicut ros Hermon, qui descendit in montem Sion.
Quoniam illic mandavit Dominus benedictionem
et vitam usque in saeculum.
Ecce nunc benedicite Dominum
omnes servi Domini:
qui statis in domo Domini,
in atriis domus Dei nostri,
in noctibus extollit manus vestras in sancta
et benedicite Dominum.
Benedicat to Dominus ex Sion,
qui fecit caelum et terram.
(SALMI 132 E 133)

V
BASSO E CORO
Venit hora ut clarificetur Filius hominis.
Amen, amen dico vobis, nisi granum
frumenti cadens in terram mortuum
fuerit, ipsum solum manet: si autem
mortuum fuerit multum fructum affert.
GIOVANNI XII, 23)

BASSO E CORO
Ego sum vitis, vos palmites, qui manet in me,
et ego in eo, hic fert fructum multum;
quia sine me nihil potestis facere.

Si quis in me non manserit, mittetur
foras sicut palmes, et arescet, et colligent eum,
et in ignem mittent, et ardent.
(GIOVANNI XV, 5-6)

BASSO E CORO
(basso)
Pater venit hora, clarifica filium tuum,
ut filius tuus clarificet te: sicut dedisti
ei potestatem omnis carnis, ut omne,
quod dedisti ei, det eis vitam aeternam.

(coro)
Haec est autem vita aeterna: ut cognoscant te,
solum Deum verum, et quern misisti Jesum Christum.

(basso)
Ego te clarificavi super terram: opus
consummavi quod dedisti mihi ut faciam.
Pater sancte, serva eos in nomine tuo,
quos dedisti mihi.

(coro)
Pater sancte…

(basso)
Et ego claritatem quam dedisti mihi,
dedi eis:
ut sint unum sicut et nos unum sumus.
Ego in eis, et to in me, ut sint consummati…

(basso e coro)
…in unum. (GIOVANNI XVII, PASSIM)

VI
SOPRANO E CORO DONNE
Quemadmodum fuit hoc molitum far
dispertitum supra montes, deinde collectum in unum
coaluit,
ita coalescat ecciesia tua ab extremis terrae in regnum tuum.
(DOCTRINA DOMINI IX)

BASSO E CORO
Haec enim est oblatio quam Dominus
praenuntiavit dicens:
In omni loco et tempore offeratur mihi
oblatio munda quoniam rex magnus ego sum
(DOCTRINA DOMINI XIV)

CORO
Regi autem saeculorum immortali, invisibili,
soli Deo honor et gloria.
(PAOLO I AD THIMOTHEUS I, 17)

VI
CONTRALTO
Quotquot autem receperunt eum, dedit eis potestatem filios
Del fieri…
quinon ex sanguinibus neque ex voluntante viri, sed ex Deo
nati sunt.
(GIOVANNI I, 12-13)

MYSTERIUM (Italiano)

I
CORO
In principio era il Verbo e il Verbo
era presso Dio, e Dio era il Verbo.

E il Verbo si é fatto carne e abitò in noi.

BASSO E CORO In verità, in verità vi dico: se non avrete mangiato la carne
del Figlio dell'uomo e bevuto il suo sangue, non avrete vita in voi.
Chi mangia la mia carne e beve il mio sangue, ha vita eterna: ed io
risusciterò nell'ultimo giorno.


(GIOVANNI VI, 53, 54)

BASSO Questo é il pane disceso dal cielo. Non come la manna che
mangiarono i vostri padri e morirono. Chi mangia questo
pane vivrà in eterno.

CORO Un pane spezziamo che é farmaco di immortalità, antidoto
per non morire, ma per vivere in Gesù Cristo per sempre.
(S. IGNAZIO DI ANTIOCHIA—EPISTOLA AGLI EFESINI XX)

II
CORO
Poiché uno é il pane, uno il corpo, mold siamo, tutti
partecipi di un medesimo pane.

CONTRALTO
E tutti mangiarono lo stesso cibo spirituale, e tutti bevvero
la stessa bevanda spirituale:

CORO
Bevevano dalla pietra spirituale, che ii accompagnava: e la
pietra era Cristo.
(PAOLO I CORINTHI X, 3-4)

CORO
(uomini soli)
Tu sei Pietro, e su questa pietra edificherò La mia Chiesa

(tutti)
e le porte dell'inferno non prevarranno contra di essa.
(MATTEO XVI, 18)

III
BASSO
Ancora vi dico che se due di voi consentiranno sulla terra,
qualunque cosa essi chiederanno sarà loro fatta dal Padre
mia, che è nei cieli.
Perché dove sono due o tre adunati net mio nome, ivi sono
io in mezzo a loro.
(MATTEO XVIII, 19-20)

CORO
Dove è Cristo Gesù, là è la Chiesa Cattolica.

SOPRANO CONTRALTO TENORE E CORO
(soli)
Dove è carità e amore, ivi è Dio.
Ci ha raccolti in uno l'amore di Cristo,
Esultiamo ed attegriamoci in tui.

(coro)
Temiamo ed amiamo il Dio vivo.

(soli)
E con sincerità di cuore veneriamolo.
Quando poi siamo riuniti insieme,
Vigiliamo che i nostri pensieri non ci dividano.
Cessino i dissensi malevoli, cessino le liti.

(coro)
E in mezzo a noi ci sia Cristo Dio.
(ANTIFINA DEL GIOVEDI SANTO)

CORO
Poichè in lui viviamo, ci muoviamo e siamo.
(ATTI DEGLI APOSTOLI XV11, 28)

IV
TENORE
Due sono le vie, l'una di vita, l'altra di morte.
La via di vita è questa:
in prima luogo ama Iddio tuo fattore;
poi it prossimo tuo come te stesso;
ciò che non vuoi sia fatto a te, non fare ad altri.
(DOCTRINA DOMINI I)

CORO
Ecco quanto è bello e quanto è doice
che fratelli abitino in unità.
E come l'unguento sul capo, the discende sulfa barba,
la barba di Aaron:
che discende fino al lembo delta sus veste;
come la rugiada del'Hermon, che discende sul monte di Sion.
Poichè quivi il Signore ha stabilito la benedizione e la vita
in eterno.
Or ecco benedite il Signore, voi tutti servi del Signore:
che state nella casa del Signore, negli atrii delta casa del
Dio nostro,
nelle notti alzate le vostre mani verso il santuario,
e benedite it Signore.
Ti benedica da Sion it Signore,
che ha fatto il cielo e La terra.
(SALMI 132 E 133)

V
BASSO E CORO
È venuta Cora the sia glorificato it Figlio dell'uomo
In verità, in verità vi dico, se il granotto di frumento, caduto
nella terra, non muore, rimane solo:
invece muore apporta motto frutto.
(GIOVANNI XII, 23)

BASSO E CORO
Io sono la vite, voi siete i tralci; chi rimane in me, ed io
in lui, questi porta motto frutto; poiché senza di me non
potete fare nulla.

Se uno non rimane in me, sarà gettato
fuori come it sarmento e inaridirà, e raccoglieranno, e lo getteranno nel fuoco, e lo bruceranno.
(GIOVANNI XV, 5-6)

BASSO E CORO
(basso)
Padre, venuta é l'ora, glorifica it Figlio tuo,
affinché il Figlio tuo glorifichi te:
pertanto hai dato a lui la potestà di tutta to carne,
affinché tutto quello the hai dato a lui, dia loro la vita eterna.

(coro)
Questa é la vita eterna: che conoscano te, solo Dio vero, e
colui che hai mandato, Gesù Cristo.

(basso)
lo ti ho glorificato sulla terra: ho compiuto l'opera che to hai
dato a me che io facessi.
Padre santo, custodisci nel nome tuo coloro che tu hai dato a me.

(coro)
Padre santo...

(basso)
E io la gloria che hai data a me,
ho dato a loro: affinche essi siano una cosa sola, come
anche not siamo una cosa sola.
Io in loro, e tu in me, affinché siano perfetti.

(basso e coro)
...nell'unità.
(GIOVANNI XVII, PASSIM)

VI
SOPRANO E CORO DONNE
A quel modo che questo macinato grano
era sparso su per i monti, e poi raccolto si congiunse in
una sola cosa,
cosi si congiunga la tua Chinesa dagli estremi delta terra nel tuo regno.
(DOCTRINA DOMINI IX)

BASSO E CORO
Questo é il sacrificio die it Signore
preannunziò dicendo:
In ogni luogo e in ogni tempo sia offerto a me
un sacrificio puro poiché re grande io sono.
(DOCTRINA DOMINI XIV)

CORO
Al re dei secoli, immortale, invisibile,
al solo Iddio onore e gloria.
(PAOLO I AD THIMOTHEUS I, 17)

VII
CONTRALTO
A quanti lo accoisero diede la potestà di divenire figli di Dio...
essi che non dal sangue, nè datta votontà della came sono
nati, ma da Dio.
(GIOVANNI I, 12-13)

CORO E SOLI
Costoro, che rivestono blanche stole, chi sono e donde vennero?
Essi sono coloro che vennero da grande tribotazione e
lavarono le loro stole
e le resero candide nel sangue dell'Agnello
(APOCALISSE VII, 13-14)

VOCE BIANCHE
Questi sono uomini santi divenuti amid di Dio, gloriosi
banditori delta divina verità:
le loro lingue si sono fatte chiavi del cielo.
(ANTIFONA DAL "PROPRIUM SANCTORUM")

CORO
Vieni, o Santo Spirito, riempi i cuori del tuoi fedeli,
e accendi in loro il fuoco del tuo amore:
tu che attraverso la diversità di tutte le lingue
hai raccolto le genti in una sofa fede.
(ANTIFONA "AD INVOCANDIUM SPIRITUM SANCTUM")

VOCI BIANCHE
...le loro lingue si sono fatte chiavi del cielo.

C'ERA UNA VOLTA NELLA GROTTA...
C'era una volts nella grotta d'Al-Qalas,
c'era una lampada laggiù
Nulla v'è nel mondo che di essa valga più.
Saggio è il mortale che alla grotta scenderà.
C'era una lampada laggiù

AVE MARIA
Ave Maria di grazia plena.
Fra tutte le donne benedetta sei tu
e benedetto it frutto del ventre tuo, Gesù.
Santa Maria madre di Dio,
prega per noi peccatori
adesso e nell'ora della morte nostra
cosl sia.
Ave Maria.

PSALLITE NATO DE MARIA VIRGINE
Lux optata claruit:
gaude Sion filia:
virga que jam aruit,
virga succi nescia, virga Jesse floruit
juxta vaticinia cum gloria:
gignitur, nascitur Christus
sicut voluit divina clementia.
Psallite, psallite, psallite, psallite,
plaudite nato nobis hodie de Maria Virgine,
psallite, psallite, psallite, psallite.
Nascendi primordia subiit eternitas
induit servitia superna regalitas;
lactat patrem filia, quem parit virginitas cum gloria.
Angitur, frangitur hostilis protervia et eius potentia.
Psallite, psallite, psallite, psallite,
plaudite nato nobis hodie de Maria Virgine,
psallite, psallite, psallite, psallite.

SALMO VI
Domine, ne in furore tuo arguas me
neque in ira tua corripias me.
Miserere mei, Domine,
quoniam in firmus sum.
Saname, saname Domine
quoniam conturbata sunt ossa mea,
et anima mea turbata, turbata est valde.
Convertere, Domine, et eripe animam meam.
Salvum me fac propter
magnam misericordiam tuam,
quoniam non est in morte qui memor sit tui
in inferno, autem, non est qui confitebitur tibi.
Ne arguas me. Ne corripias me. Miserere mei, Domine.

SALMO 99
Jubilate Deo omnis terra,
servite Domino in laetitia.
Introite in conspectu eius,
in exultatione.
Laudate nomen eius: quoniam suavis est Dominus,
laudate nomen eius:
quoniam suavis est Dominus
in aeternum misericordia eius,
in aeternum et usque in generationem
et generationem veritas eius.
Laudate nomen, nomen eius.
Jubilate Deo omnis terra
servite Domino, servite Domine in laetitia.

TOTA PULCHRA ES
Tota pulchra es, amica mea
et macula non est in te.
Favus distillans labia tua, mel et lac sub lingua tua;
odor unguentorum tuorum
super omnia aromata.
Et enim hiems abiit et recessit.
Flores apparuerunt,
vinae florentes odorem dederunt.
Ex vox turturis audita est in terra.
Surge, propera, amica mea.
Veni de Libano,
veni coronaberis amica mea.

IL PRESEPIO
Maria lavava,
Giuseppe stendeva,
Suo figlio piangeva dal freddo the aveva.
"Sta zitto mio figlio,
che adesso ti piglio,
del latte t'ho dato,
del pane'un ce nè"
La neve sui monti
cadeva dal cielo.
Maria col suo velo copriva Gesù.
Dormi o figlio, figlio tenerello,
dormi figlio vago e bello
Chiudi chiudi i lumi santi,
le tue stelle fiammeggianti.
Dormi dormi, cuor di mamma!
Fai ha ninna, fai la nanna!
Non si accende it nostro fuoco.
Noi viviamo in basso loco.
Io ti bacio le guancette,
blanche fresche e rotondette.
Bacia o figlio la tua mamma!
Non più ninna, non più nanna.
Non più ninna, non più nanna,
figlio bacia la tua mamma!
Dormi, dormi, cuor di mamma!
Fai la ninna fai la nanna!

IL NATALE DEGLI INNOCENTI

I
CORO
In quel momento tutte le cose si fermarono nel più grande silenzio
con timore.
Cessarono i venti nè alcuna foglia d'albero si mosse e non si
udi più rumor d'acque non scorrevano i fiumi
tutte le fonti d'acqua si tacevano
non risonava più voce umana
tutte le cose con gran timore si tacquero
aspettando la venuta delta maestà di Dio.

II
NARRATORE
V'erano del pastori che vegliavano all'aperto
e custodivano nella notte il loro gregge.
E un Angelo del Signore si presentò.

ANGELO
Non temete: ecco vi annunzio un'allegrezza grande,
grande per tutto il popolo: poichè oggi è nato a voi
un salvatore chè Cristo Signore.
E questo vi sarà segno:
troverete un bambino in fasce giacente in una mangiatoia.

CORO
Gloria, gloria in altissimis
Gloria, gloria Deo et in terra pax
pax hominibus bonae voluntatis.

III
NARRATORE
E i pastori s'affrettarono ad andare.
...e cosi trovarono Maria e Giuseppe
e il bambin giacente nella mangiatoia
dentro una grotta e il bove e l'asino l'adorarono...

CORO
E cosi trovarono Maria e Giuseppe
e il bambin giacente nella mangiatoia
dentro una grotta e il bove e l'asino l'adorarono...

IV
NARRATORE
Ecco dei Magi vennero dall'oriente...

I MAGI
Dov'è dov'è colui chè nato re dei Giudei?
Abbiam veduto la sua stella in oriente
e siam venuti ad adorarto

NARRATORE
Ed ecco la stella the avevan veduto in oriente
andava innanzi a loro
finchè venue a fermarsi dov'era il bambino.

CORO
Stella ista sicut flamma coruscat
et Regem regum Deum demonstrat.

NARRATORE
Ed entrarono nella casa e videro il bambino,
con Maria sua madre
e si prosternarono e lo adorarono

I MAGI
Regem regum adoramus

NARRATORE
...e aperti i lor tesori gli offrirono in dono
oro, incenso e mirra.

V
CORO (I soldati di Erode)
Ubi est Rex Judaeorum.

NARRATORE
Ecco un angelo del Signore apparve in sogno a Giuseppe.


ANGELO
Levati prendi il bambino e la madre sua e fuggì in Egitto,
e là rimani fin quando ti dirò
perchè Erode cercherà il bambino per dargli morte. ò

CORO (I soldati di Erode)
Ubi, ubi, ubi est.

NARRATORE
E Giuseppe si levò di notte
prese il bambino e la madre sua e fuggì in Egitto.

CORO
Ex Aegypto vocavi filium meum

VI
NARRATORE
Allora Erode mandò
ad uccidere tutti
i bambini dai due anni in giù in Betlehem e in tutto il suo territorio.

CORO
Ubi, ubi, ubi est.

NARRATORE
Allora si adempi ciò ch'era stato detto per bocca del profeta.

CORO
Vox in Rama audita est
ploratus et ululatus multus
Rachel plorans filios suos
et noluit consolari quia non sunt.